Welcome to the first stop aboard Magical Blogorail Teal. Enjoy the ride as we share ideas for Disney themed Halloween costumes!
When my family attended Mickey's Not-So-Scary Halloween Party in 2009, we took our costume cues from Billy who, at age 12, flatly balked at wearing
any
costume. I'm quite sure that the only reason I was able to sweet-talk him into it was because we were going to Walt Disney World!
So, after weeks of getting "No!" "No!" "No!" as a response to "What do you want to be for Halloween?" he abruptly changed his mind. "Pirate!" he said. "I will be a pirate!"
"OK," I said. "Billy will be a pirate."
"And Mommy," he declared. Okay...
"And Daddy," he continued. "And Tricia and Catie!" (sister & cousin)
If Billy was going to dress like a pirate, we were ALL going to have to dress like pirates! Luckily, the rest of the family agreed to go along with the theme. You end up doing quite a lot of this when living with Autism.
As it turns out, dressing like a pirate is not that difficult to do and was an excellent choice for a group MNSSHP costume. It certainly helps that Disney has a long tradition of
pirate adventure
films
:
For example, in 1950, Disney released
Treasure Island
, a live-action film adapted from Robert Louis Stevenson's swashbuckling tale.
Long John Silver
In 2002, Disney created an animated science fiction version of this film called
Treasure Planet.
John Silver
Another well-known Disney pirate was Captain Hook, the villain in the animated classic
Peter Pan (
1953). The film was based on the play
Peter Pan, or The Boy Who Wouldn't Grow Up
by J.M. Barrie.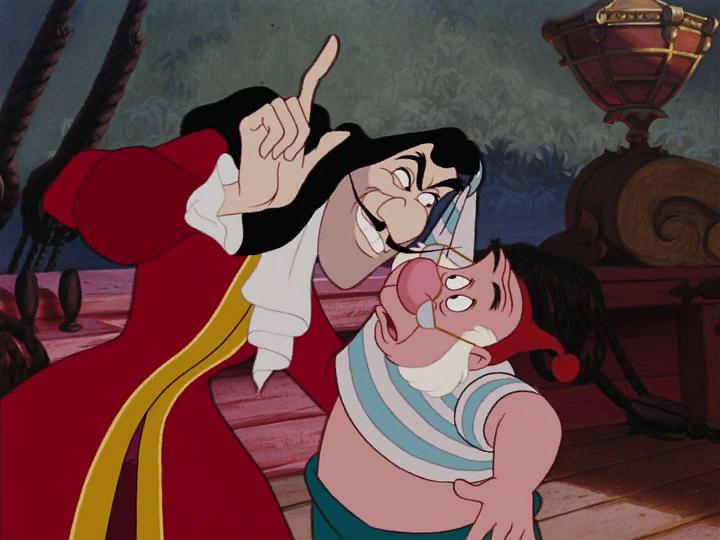 Captain Hook & Mr.Smee
The franchise was modernized with
Jake and the Never Land Pirates
, a musical interactive animated children's show, debuted on the Disney Junior channel in 2011
Jake, Izzy, Cubby and their parrot Skully with Peter Pan
Of course, there are plenty of pirates in the
Disney Parks
:
Disney Land
Walt Disney World
A classic scene from POC
In 2003, the
Pirates of the Caribbean
attraction inspired a series of wildly successful live action films...
Which, in turn, inspired changes in the attraction!
There were sure to be plenty of fellow "pirates" at the party that night...
photo by A. Daniels
All in all, I think "Pirates" was the perfect Disney-themed costume choice!
Here is the map of our Magical Blogorail Loop should you happen to have to make a stop along the way and want to re-board:
1st Stop ~ Disney-Lovin' Spectrum Mom (You are here!)
Final Stop ~
YourFirstVisit.net