Welcome to the first stop aboard Magical Blogorail Teal. Enjoy the ride as we share reviews of our favorite Disney restaurants!
Let's kick off this tasty little loop with a review of one of my family's top Disney must-dos: the Character Breakfast Buffet at the Crystal Palace.
Photo courtesy of disneyworldtickets.com
The best time to experience breakfast at the Crystal Palace is pre-park opening. There's nothing like trotting up a near-empty Main Street, USA and grabbing some family pictures in front of the Castle and the Partners statue before the regular crowds swarm in!
B & T with their little cousins
We've always had good luck with seating at the Crystal Palace. Although spacious and airy, the restaurant can get quite noisy as it fills with happy, hungry guests. When we check in at the podium I let the Cast Member know that B. has sensory issues request a table by the window or the wall. Usually we luck out being seated by a window which not only shields him from the hustle of the dining room, it gives him something to look at while waiting for his friends from the Hundred Acre Wood to drop by!
Our server always arrives quickly to take our beverage order and to explain how the buffet and character circulation works. Then, it's time to eat!
Now, you're probably thinking, "What's the big deal? Scrambled eggs, bacon, potatoes… we're talking about a typical breakfast buffet here!" Well… I have to agree. The food, although tasty, is pretty much your basic fare -- save the Mickey-shaped waffles! Nevertheless, buffets are always a good choice when dining with children because there is sure to be something to please even the pickiest eater.
Photo courtesy of disneyfoodblog.com

Breakfast lasagna? Not for my kids! Good thing there's plenty of cereal and fruit for them!
Admittedly, the food is only a small part of why our family loves breakfast at the Crystal Palace. The real draw for us is the opportunity to meet and play with Winnie the Pooh, Piglet, Eeyore and Tigger! And we can do so at our leisure, without spending valuable attraction time waiting in line to meet them in the parks. (Just make sure you don't miss them on their rounds while you are at the buffet table!)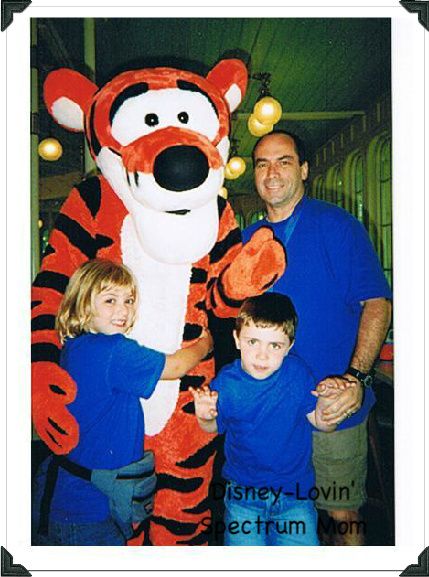 Our first trip... 2003!
Warming up to characters on a later trip
As long as you don't linger too long at your table, you can finish your pre-park opening breakfast here and be out in the park before rope drop! I definitely recommend an early morning meal with Winnie the Pooh and Friends at the Crystal Palace!
Thank you for joining us today! Here is the map of our Magical Blogorail should you happen to have to make a stop along the way and want to reboard:
1st Stop ~ The Many Adventures of a Disney-Lovin' Spectrum Mom