Welcome to those of you joining me from THE DISNEY FAITHFUL and to those of you just hopping aboard. I am the 4
th
stop on our Magical Blogorail!
This month we're discussing our Disney Guilty Pleasures and mine is a doozy. I'm talking about a
true
guilty pleasure for a Disney-loving spectrum mom: a SOLO trip to Walt Disney World! That's right – no kids, no husband – just ME.
Well, okay, just me and a few hundred of my closest on-line friends!
The timing for this topic could not be more perfect because in less than 48 hours I will be jetting off to spend a glorious long weekend (sans family) celebrating the 30th anniversary of Epcot and the fabulous Food and Wine Festival!
I'm terribly excited about the trip, but it is definitely a two-sided coin. On the one side there is the prospect of fun and fellowship with friends; bloggers, podcasters, and other Disney fans with whom I interact regularly online. Some of them I have met in person, but many I will be meeting for the first time. I can't wait!
However, on the other side of the coin there is a certain amount of guilt involved with leaving my family behind. Moms, you know what I mean!
Yes, my kids are older now and can do a lot for themselves and, yes, my husband will be there to guide and protect them while I'm gone. But, still…
As many of you know, my 14 year-old son, Billy, has autism and needs a significant amount of prompting and assistance with both his personal care and his homework. In many ways, it's like having a 4 year-old in a 14 year-old body! I have not yet told him that I will be going away because the resulting anxiety leading up to the event would have a huge impact on his behavior, both at home and at school. I've learned through experience that it is best to wait until the anxiety-inducing event is imminent. Admittedly, I'm dreading sitting down with him the day before I leave and explaining that Mommy will not be home for four days and four nights! It's so hard to see him get upset!
We will go to the calendar and mark the days with a fat marker so he can visualize the time. There will be Disney stickers for him to place over each date so he can count down the days until my return. We will read a social story prepared with the help of his teacher and behaviorist that will help him cope with the stress by reinforcing positive behaviors. Last, but not least, we will pray – a lot – for him, for me, and for his father and sister who will need to support him and comfort him until my return.
You may be asking whether this particular guilty pleasure of mine is worth all this. I've asked myself that same question, believe me! In the end, I think that it is.
You see, last year I had the opportunity to get away to my Happy Place not once, but twice, and these brief periods of respite were extremely therapeutic for me. The stresses of modern parenthood are many, especially for a special-needs parent. The responsibilities of family, home and job can often seem overwhelming. For me, having an occasional Disney getaway to plan and anticipate goes a very long way toward maintaining a healthy state of mind.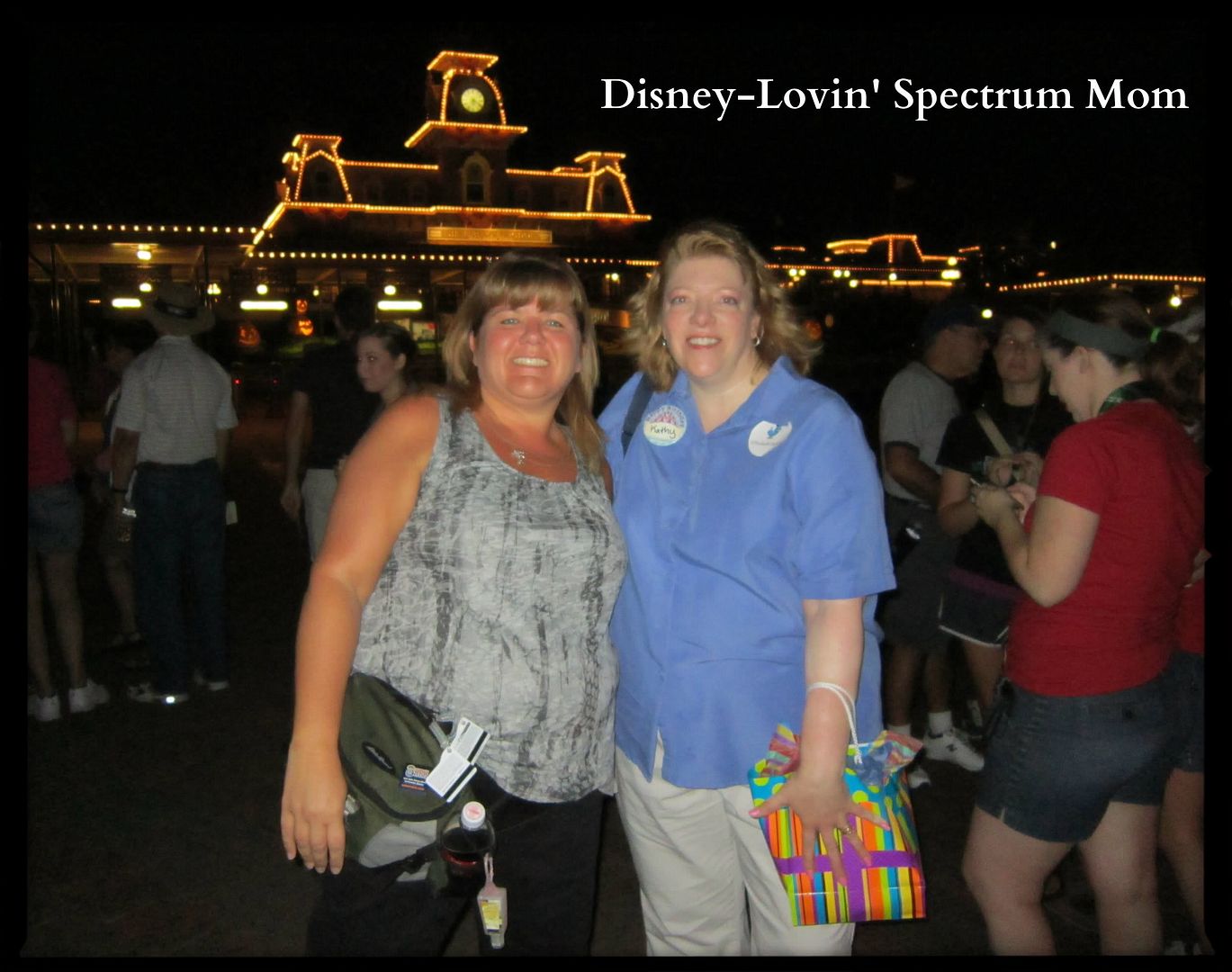 I'll be hanging out with my friend, Liz, again this year!
Some women go to a day spa. Others buy shoes. Still others run or go to the gym. Me? Every so often I go to Walt Disney World solo to relax, refresh and rejuvenate my spirit. That is my Disney guilty pleasure!
Thank you for joining me today. Your next stop on the Magical Blogorail Loop is RETURN TODISNEY.
Here is the map of our Magical Blogorail Loop should you happen to have tomake a stop along the way and want to reboard:
4th Stop ~ The Many Adventures of a Disney Lovin' Spectrum Mom