In keeping with my month-long celebration of Autism Awareness and Acceptance I'd like to call attention to a related cause: the Special Olympics' campaign to Spread the Word to End the Word: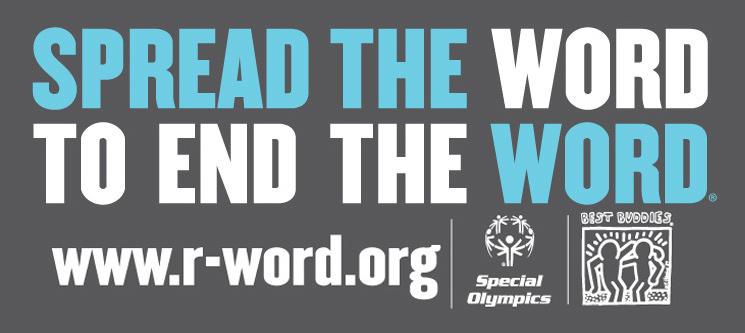 Click on Picture to go to website
When I was growing up in the late 60's - early 70's it was very common to hear the words "retard" or "retarded" being used as a casual put down:
"This game is so
retarded.
"
"Don't be such a
retard.
"
I never gave it a second thought, really. It was just the way we spoke. The word "retarded" was simply an antonym for "cool"; just like "down" was the opposite of "up." As I kid I never considered that using the "R" word could be hurtful and disrespectful to those with intellectual and developmental disabilities.
But, it is.
Little did I know that I was destined to become the mother of a child with a developmental disability and that the word that had once slipped so easily off my tongue would one day make my ears burn.
"Most people don't think of this word as the language of hate, but that's exactly what it feels like to millions of people with intellectual disabilities, their families and friends. I choose to believe that most of us are fundamentally good and that we're just not aware that the word is offensive and that it hurts."
~ John C. McGinley
I've since taken the pledge, not only to end my use of the "R" word, but to advocate that others do the same. Please consider spreading the word to end the word!
Thank you!