Welcome
to the first stop aboard Magical Blogorail

Teal

. Enjoy the ride as we share with you our Disney plans for 2012:
Castles in the Air
If you have built castles in the air, your work need not be lost; that is where they should be. Now put the foundations under them.
~
Henry David Thoreau, Walden, 1854
I wish that I could fill this post with lovely descriptions of plans for a 2012 trip to Walt Disney World but – alas – I have none to share.
*sniffle* *sniffle* Pass the Kleenex, please!
All joking aside, perhaps my situation isn't as tragic as it may seem. I choose to look on the bright side; now I'll have more time for another Disney-related project that I have been sorely neglecting this past year – The Book.
"What book?" you ask. Why, THIS book! (Don't forget to come back, now -- click "Home" when you're finished!)
Kindly indulge me once more while I send you on another side trip. Scroll up to the yellow navigation bar, above. Now click on "Am Writing" and then "Home." (I'll wait for you right here.)
So, what did you find under the "Am Writing" link? A big, fat NOTHING, that's what! You've heard the expression, "Life keeps getting in the way." Well, that's the excuse I've been continually giving to myself (and others.)
After all, I'm a busy special-needs mom! I work! I take care of the kids - the house - the errands - the grocery shopping, etc.!
I've been doing all kinds of things in preparation for writing and publishing The Book: I've been blogging and writing for WDW Fan Zone (a.k.a. "honing my craft" and "building my platform.")
I've been reading all sorts of relative books and blogs. I've been Tweeting. I've been Facebooking. I've been networking. I've been…
Clipart courtesy healthylifestyleplus.com
There, I've said it. *sigh* I am the biggest procrastinator there is! (Just ask my fellow Blogorail Teal bloggers – I'm always the last one to post a link to my article each month!)
So, what is my biggest Disney plan for 2012? To be more disciplined with my writing; otherwise my dream will remain just a "castle in the air."
Thoreau is right; this dream needs a foundation and here's how I intend to build it: I hereby commit to removing the "Under Construction" label from the "Am Writing" tab. Every week I will post something about my progress. I need to be accountable, not only to myself, but to you as well and creating weekly deadlines will help immensely.
Thank you in advance, Magical Blogorail readers, for helping me to change this dream into a reality! And thank you, Walt Disney, for continuing to inspire me!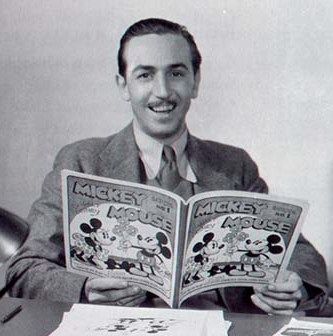 "If you can dream it, you can do it."
Here is the map of our Magical Blogorail should you happen to have to make a stop along the way and want to reboard:
1st Stop ~ The Many Adventures of a Disney-Lovin' Spectrum Mom