Welcome to the second post in this series! I'm marking the ten-year anniversary of my son's autism by comparing what I learned in these past ten years to that which is discussed in the classic book, Ten Things Every Child With Autism Wishes You Knew.
Chapter Two: My Sensory Perceptions are Disordered
This means that the ordinary sights, sounds, smells, tastes and touches of every day that you may not even notice can be downright painful for me. The very environment in which I have to live often seems hostile. I may appear withdrawn or belligerent to you but I am really just trying to defend myself.
It was easily discernable, even at an early age, that certain sounds, smells, touches, etc., had either the power to set Billy off -- or to shut him down. Haircuts make him scream. The whistling of a tea kettle sends him running out of the room. Unfamiliar foods make him gag. His mood and behavior are often unsettled long after the offending sensation has been removed.
In my opinion it is imperative that we parents of children on The Spectrum understand that sensory hypersensitivity will result in "acting out" behavior. It is not, admittedly, the easiest concept to grasp – or to integrate into our parenting. We are responsible for setting limits and for disciplining our children. We are charged with teaching our children to follow rules so they can function in society. Actions have consequences and all children need to learn that.
What I still struggle with – especially now that my son is an adolescent – is how to tell the difference between the typical behaviors of a teenager testing limits and those that are completely beyond his control because of sensory irritation.
It reminds me of something that Temple Grandin, a well-known author and speaker who has Asperger Syndrome, has often been quoted as saying: "You can't punish a child who is acting out because of sensory overload.
I posed the question to Billy's psychiatrist while my 13 year-old son sat there, pretending to be a dragon breathing fire on me. (He obviously didn't want to be there.) "Is he doing this as a form of normal teenage rebellion or is he doing this because of his autism?" I asked. The doctor had no simple answer. "He's doing this because he's a teenager who has autism."
I guess the best advice I can give to both myself and to you is to:
1) Set reasonable limits -- without them it will be impossible for a child to navigate the world. (Don't expect too much from your child; but don't expect too little.)
2) Make consequences known and follow through with them. (If you keep screaming we will leave the store – without the thing you are screaming for.)
3) Give alternative, more acceptable behaviors that will help to diffuse tension. (Don't rip the wallpaper off the wall; tear these newspapers instead.)
4) Pick your battles. (Pretending you're a fire-breathing dragon toasting one's mother like a marshmallow is one thing -- hitting and biting her is another.)
In November Billy and I will be traveling to Walt Disney World without my husband and daughter, so as a result I'll be solo-parenting Billy for the week. Parenting a child who has ASD is a challenging enough role for two parents let alone one – and it will be even more so for me because we'll be in a highly stimulating environment. Let's face it; a day in a theme park can be over-stimulating for anyone. I anticipate that there will be many times I will miss having my steadfast husband there to share the parenting duties.
One of the interventions I'm planning in the event that Billy becomes overwhelmed and begins acting out is the use of Social Stories.
Carol Gray first defined Social Stories early in 1991.
A Social Story is a short story – defined by specific characteristics – that describes a situation, concept, or social skill using a format that is meaningful for people with ASD.
(*Visual as opposed to verbal.) Social Stories are often written in response to a troubling situation, in an effort to provide a person with ASD with the social information he may be lacking. The result is often… an improvement in the response of the person with ASD.
We used Social Stories a lot more when Billy was younger and less verbal. In fact, back in 2006 I submitted a tip involving the use of Social Stories and kids with ASD and it ended up being included in the book PassPorter's Open Mouse for Walt Disney World and the Disney Cruise Line by Deb Wills and Debra Martin Koma.
Currently I'm working with Billy's behaviorist to develop these social stories. (The school he attends uses a program called Board Maker, which I don't have.) I will be sure to post them here. In the meantime, my good friend Amy, who has two boys on the spectrum, has graciously agreed to share pictures of just a few of the social story cards she made for her upcoming Disney trip: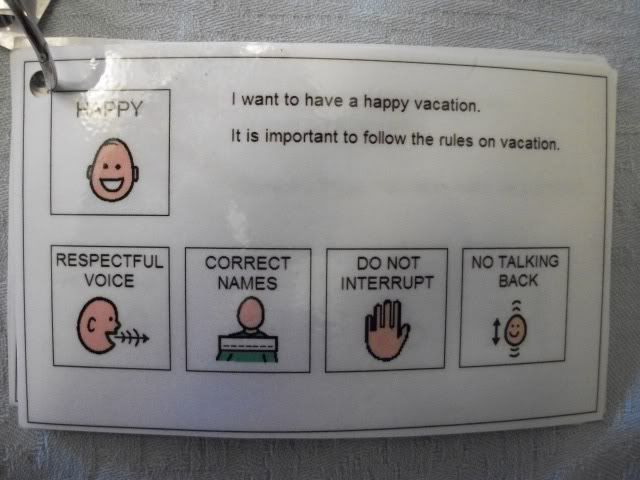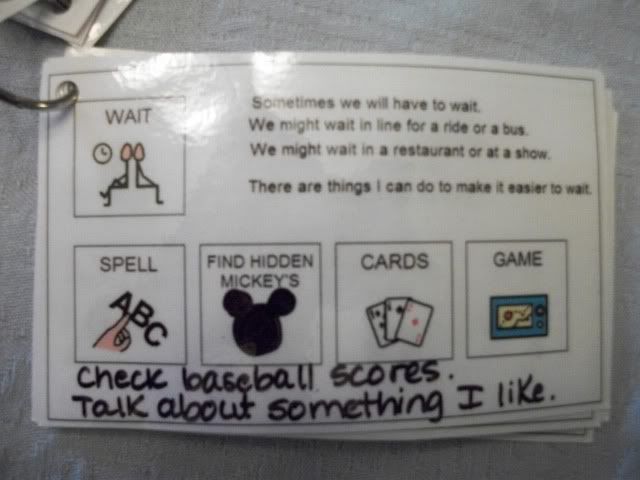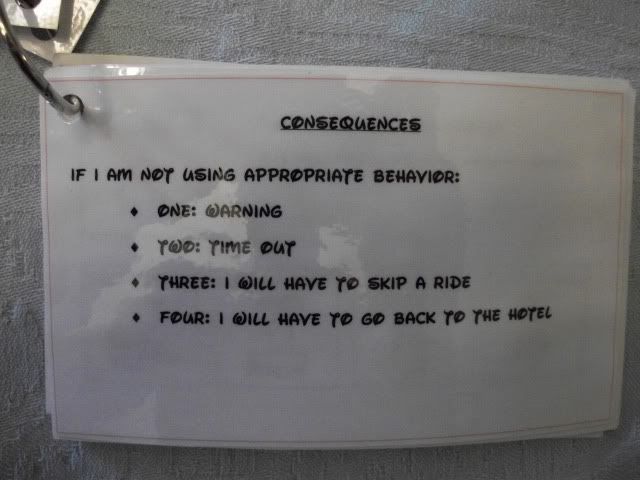 And thank YOU for reading!