I am first and foremost a child. I have autism. I am not primarily "autistic."
I have a huge confession to make. When the pediatric neurologist changed Billy's diagnosis from the inherently vague PDD-NOS (Pervasive Developmental Disorder-Not Otherwise Specified) to Autistic Disorder, I was secretly relieved. For two years I had struggled trying to explain to family, and at times complete strangers, the reason for Billy's baffling behavior and lack of language skills. Saying "My son has a pervasive developmental disorder" usually resulted in blank stares and a flurry of questions I couldn't answer; questions that were salt on an open wound. "My son is autistic" usually shut them up quick. Having that label made things a little easier…for me.
For years I used that term as a descriptive. "My son is autistic" meant no more to me than "my son is tall." Remember, too, that I'm a Registered Nurse. We nurses are trained to treat patients in a holistic way and I like to think that most of us do, yet we still use a diagnosis in a non-offensive descriptive way. It is what it is. He's diabetic. She's asthmatic. It imparts important information and clarifies the patient's special needs. Why would I not describe my son that way when the situation called for it?
September, 2003: Our first visit to Walt Disney World. Billy was 5 years old and, predictably, was terrified of the characters. Even Tigger, who he adored on page and screen, was too much for him sensory-wise when he bounced over to our table. "My son is autistic," I told the character handler. She whispered something to Tigger and he immediately stretched out on the floor and held out his paw. Tentatively, Billy reached over and held it from a safe distance.
"Cheeeese!"
Those four little words -- my son is autistic -- completely changed the experience for my son and in time I became quite comfortable using them to communicate that Billy had some special needs, especially when in an environment such as WDW.
Earlier this year I received a Facebook message from a friend whose son has high-functioning autism, or Asperger Syndrome. My friend suggested that I adopt the practice of using "child first, with autism" instead of "autistic" when referring to kids with Autism Spectrum Disorders. In her book, Ten Things Every Child with Autism Wishes You Knew, Ms. Notbohm, advocates the same:
My autism is only one aspect of my total character. It does not define me as a person. Are you a person with thoughts, feelings, and many talents, or are you individualized by one trait? Are you fat (overweight), myopic (wear glasses), or klutzy (uncoordinated, not good at sports)? Those may be the things that I see first when I meet you, but they are not necessarily what you are all about.
As an adult, you have some control over how you define yourself. If you want to single out a single characteristic, you can make that known. As a child, I am still unfolding. Neither you nor I yet know what I may be capable of. Defining me by one characteristic runs the danger of setting up an expectation that is too low. And if I get the sense that you don't think I "can do it," my natural response will be: Why try?
First off, I think the author (herself a mother of a child with ASD) makes some good points…the most obvious being the old adage "you can't judge a book by its cover." I also believe, whether you apply it to parenting or supervising others in the workplace, that if you set your expectations high, most people will rise to meet them.
I suppose I run into difficulty when it comes to the part when she says defining me by one characteristic runs the danger of setting up an expectation that is too low. Perhaps it's because I've never considered my son's autism to be just another one of the "characteristics" of his personality. I have accepted his autism for what it is: a lifelong developmental disability. His progress in school or social situations is not determined by whether I say "autistic" or "with autism," it's a function of what he can or cannot perform neurologically. (Again, this is the nurse talking.)
I'm going to go way, way out on a limb here. I'm going to go so far out that I run the risk of offending some readers. If I do, then I apologize.
As most of you know autism is a spectrum disorder, meaning that there is a huge range of differences in both the number and severity of challenges in the areas of language, behavior, and sensory integration that each person with ASD can exhibit. When it comes to severity, people on the spectrum are generally considered:
MILD >>>>MODERATE >>>>SEVERE
Billy falls somewhere between moderate and severe "classic" autism. He attends a school that specializes in teaching kids with developmental and behavioral disabilities. In some areas his challenges/deficits are profound. His language is minimal. He does not know that he has autism and has never given any indication that he is cognizant of being "different" from his neuro-typical peers.
Over the years I have come to accept that he will never live independently, not because he was given the label of autism, but because he is functionally incapable of doing so. Again, it is what it is…and we're working with it.
I've jumped ahead a little in the book and in doing so I've learned that the author's son is most definitely not moderate-to-severe:
Bryce, who at thirteen has succeeded at social interaction in settings ranging from team sports to school dances, is a grand example of what a child with autism can achieve when a healthy self-esteem leads the way… He has the jaw-dropping – for any kid – ability to deflect teasing and cruelty with the perspective that the insulter "needs to work on his manners" or "has some growing up to do."
Last year Billy had some trouble with a boy on his bus that would not stop making faces at him. "Stop it, Daniel, stop it!" was the extent of his reaction. If Billy ever verbalized that the other boy on the bus "had some growing up to do," I believe I would fall off my chair!
Okay, I'm taking a deep breath now because here comes the part that some of you may not like: I believe that the parents who most fear the negative connotations of the "autistic label" are usually the ones whose children are on the high-functioning end of the autism spectrum.
I'm going to put this bluntly: I know that my child's language and behavior are so obviously atypical that his "invisible" disability is no longer invisible. It doesn't matter if I introduce Billy as "my autistic son" or "my son who has autism." Anyone who spends ten seconds in the presence of my thirteen year-old can see and hear for themselves that he is not neuro-typical (read: normal.)
In many ways I have it much easier than do parents of more highly-functioning children. I don't have to deal with the anxieties of mainstreaming my child. There are five children in my son's class, all with multiple … oh, shall we say… issues. None of them think of him as "the weirdo kid" in class because they're all weird (read: special).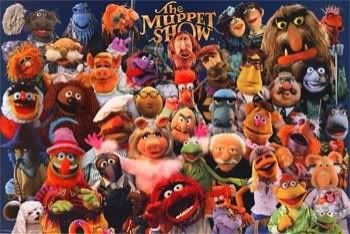 Mrs. Bear: They're weirdos, Fozzie!
Fozzie Bear: Yeah…
Mrs. Bear: But, they're nice weirdos.
Fozzie Bear: Yeah!
I daresay that the one special-ed teacher and three teacher aides assigned to my son's class will expect each child to work toward his or her full potential, no matter what that child's diagnosis/label/classification may be.
That said, if you scan through previous posts you will notice that some time ago I did adopt the child-first language so as not to alienate other parents. If it matters to them, I respect that. But for me -- after ten years riding The Spectrum -- it's all six of one, half dozen of another.
Autism: it is what it is.
*In 2013, the American Psychiatric Association's new Diagnostic and Statistical Manual of Mental Disorders (DSM-5) will be released. The diagnoses of PDD-NOS and Asperger Syndrome will no longer be used. New diagnoses such as Social Communication Disorder will be added.