Welcome to the first stop aboard Magical Blogorail Teal. Enjoy the ride as we discuss the educational side of Walt Disney World!
When my children were very young I had absolutely no qualms about taking them out of school for a week-long trip to Walt Disney World. In fact, my son's sensory issues almost dictated that we go during the least crowded times of the year.
As they got older, however, this became impractical for his older sister. By the time she entered the fifth grade we found ourselves vacationing during "Jersey Week," the week of the NJ Teachers' Convention held annually in early November. With the public schools closed for a half-day on Election Day and two days for the convention, it became a good compromise for our family. With ample notice my daughter's teachers arranged time before or after school to meet with her upon our return to review the assignments they had given her for the two and a half days she had missed.
But not all make-up work can be done on the plane! When Tricia was in the sixth grade our Jersey Week trip took her out of P.E. during a brief unit in which the children were being taught folk dancing. Their test would be given during the week of our return. Her teacher felt that she wouldn't be able to catch up and learn the dance that quickly so she gave Tricia an assignment to research three different dances from around the world during our trip to Walt Disney World and make a small presentation in lieu of the test.
Could she do it? Could my daughter actually learn something while on vacation? Let's find out!
November, 2006 – International Food and Wine Festival
Location: Epcot World Showcase
My touring plan for our first evening included catching some of the live performances that we had missed over the past years and perhaps some of the special acts that were performing during the festival. As it happened, the first of these we came across was an exhibition of dancing from Peru.
It was a rather crowded Saturday during F&WF, so Tricia did not have much time to talk with the dancers after the performance. She did find out that the group was performing a Carnival Dance, performed in celebration of good crops. She took a few notes and we moved on…
Sometime later we arrived for our dinner reservation at Restaurant Marrakesh in the Moroccan Pavilion.
She decided to find out as much as she could about the dancing she would be seeing here tonight. Her first source of information was our waiter, Anas:
After taking our orders for appetizers, Anas spent a few minutes talking to Tricia about Rakessa, what we traditionally call belly dancing. He took out a pen and wrote out the name of the dance in his native language, then wrote out Tricia and Billy's names as well. He gave the paper to Tricia and she was very excited to have such a personal souvenir to add to her report.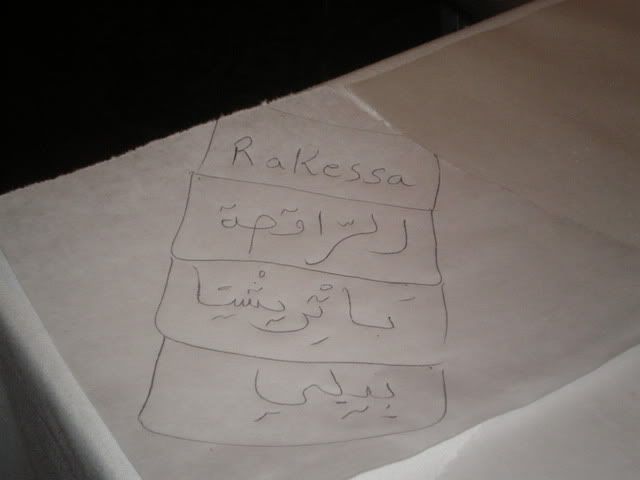 The dancer invited the young girls to come dance, but Tricia was too shy.
(Sorry it's so dark! The lighting inside this restaurant is low)
Anas invited Tricia to meet the dancer after the set so she could ask her questions and have a picture taken with her. This was going to be easy, I thought! It's only our first day and already she had two of the three dances needed for her presentation!
The only problem was Tricia -- she was being a typical tween-aged girl and was balking at having any pictures taken of herself for the report! I decided that for the last dance I would have to fix that...
A few days later we were touring Animal Kingdom. I suggested to Tricia that we make time to watch Tam Tam of Congo, the West African dancers that performed throughout the day at the open-air Dawa Bar.
The show began as tribal-garbed drummers came out and began their rhythmic percussion. A female performer did a brief dance and then came the star of the show. This gentleman was fantastic, such a showman! He enthusiastically recruited audience members to learn some of the dance steps, and Tricia reluctantly volunteered (with a firm but gentle push from yours truly.) "Think of how great these pictures will be for your report," I clucked. After a bit of eye-rolling she positioned herself all the way down at the farthest end of the dance line, thinking she would be less noticeable there!
What she didn't realize was that the dance leader was planning to get them all very involved, and he moved them about at will as he demonstrated the various steps. He had a whistle on a cord hung around his neck that he used as he "drilled" them, probably so they could better understand his verbal directions.
The drummers were chanting and beating away, the dance leader was whistling and gesturing and passionately persuading the dance line to follow his movements. It was highly entertaining!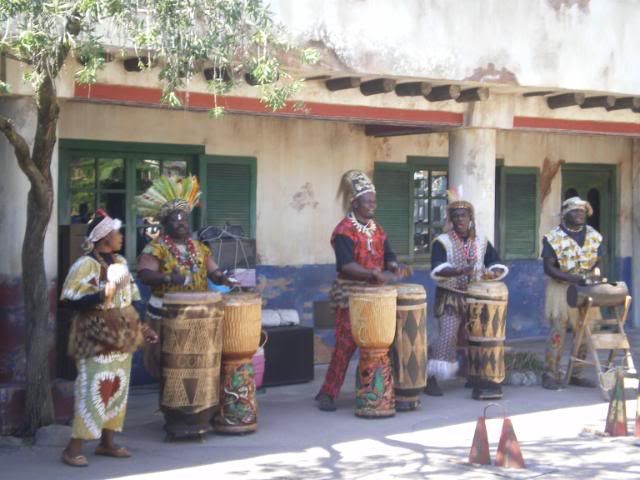 Afterwards, Tricia approached him and asked a few questions about the dancing, which she jotted down for her report. For instance, the group takes its name from the percussion instrument they play, called a Tam-Tam!
Gotcha!
When we returned home Tricia did some more research on the dances she had seen from Peru, Morocco, and West Africa and incorporated it into a poster she made using pictures we took during our trip. I'm happy to report that she received an "A" for her presentation! With the help of the friendly Cast Members at Walt Disney World her vacation was both fun and educational!
Here is the map of our Magical Blogorail should you happen to have to make a stop along the way and want to reboard:

1st Stop ~ Disney-Lovin' Spectrum Mom
3rd Stop ~ The World of Deej