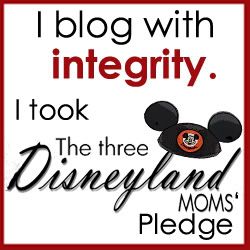 I read about the Integrity Pledge and instantly, I was moved to take it! A writer's responsibility is a great one:
Words - so innocent and powerless as they are, as standing in a dictionary, how potent for good and evil they become in the hands of one who knows how to combine them.
~ Nathaniel Hawthorne ~
As a Disney blogger I am dedicated to blogging with integrity and vow to:
never post rumors or items I know not to be true. If you are speculating on a new attraction, movie, etc., it is important that you clearly state that it is rumor or speculation and whenever possible, disclose where you got your information.

respect my audience and always be truthful in the ways in which I review and describe Disney experiences and products.

fully disclose sponsored posts and advertisements.

bring the fun and light side of Disney to my readers. (This pertains to fan sites and blogs.)

report timely and truthful insight. (This pertains to news-related sites and blogs.)

write to the best of my ability and use the correct terms and phrases when reporting Disney news and information.

never take photographs or text from other blogs or sites without the owner's permission.

be a friend to other Disney bloggers and fans, for we are part of a community, not a competition.

keep my blog current by posting on a weekly basis.
(I admit, that last one will be the only difficult one!!)