Hello and welcome to those joining me from the Something About Me Saturday Blog Hop, hosted by the ever-enthusiastic Disney Bird.
Today I'm taking my cue from Birdy and will share some favorite Disney Recipes. Preparing and enjoying foods found in the Disney Parks is a great way to keep that Disney fun in your daily life between trips!
The first recipe I'd like to share comes from Biergarten in Epcot: they have a fabulous

Macaroni Salad

. The second one, pictured behind it, is a yummy (and warm)

Artichoke Dip

from Tony's Town Square Restaurant in the Magic Kingdom... so delicious with tortilla chips!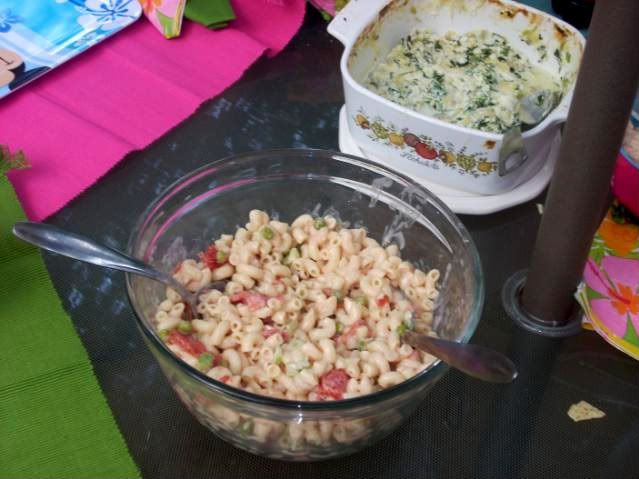 Macaroni Salad

Yield: 8 servings

Ingredients:
2 cups elbow macaroni, dry
1/2 cup celery, diced
1/4 cup peas
1/2 cup diced tomato
1/4 cup onion
1 cup mayonnaise
1/2 cup pickle juice
1/4 cup white vinegar
1/4 cup sugar


Method of preparation:
Cook macaroni according to directions. Drain and cool macaroni. Mix all ingredients in a bowl and add to macaroni. Toss it well and adjust seasoning if necessary.
Behind the bowl of macaroni salad is a casserole dish of the warm, bubbly...
Artichoke Dip
½ pound Ricotta Cheese
½ pound Mozzarella Cheese
13 ounces Artichokes (Canned) (drained and chopped)
¼ pound Romano Cheese
1 ½ ounces Heavy Cream
2 ounces Frozen Spinach (chopped)
½ ounce Garlic (chopped)
To Taste Salt and Pepper


Method of Preparation:
Mix ricotta, mozzarella, Romano, artichoke, spinach, garlic, salt, and, pepper. Add mixture to crème brulee dishes, filling no more that ½ full. Top mixture with more mozzarella cheese to come flush with top of dish. Heat in oven to melt cheeses.
So yummy with tortilla chips!
Here is your hostess bringing it to the table...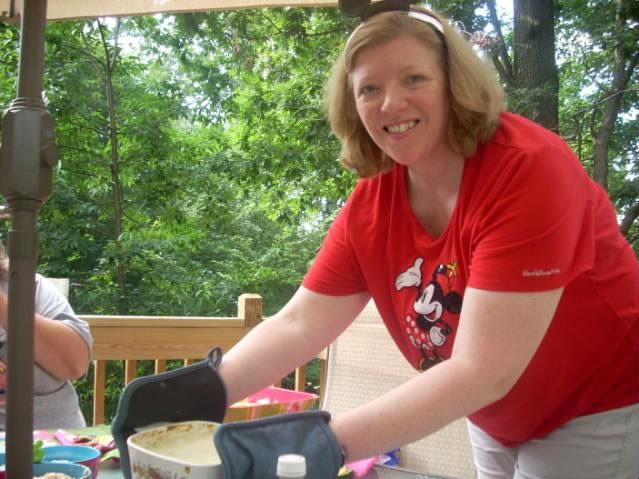 You can find these and lots of other Disney Recipes at planning sites like AllEars.net or at fun Disney blogs dedicated to celebrating Disney food, such as Cooking With Mickey or another of my favorites, The Disney Food Blog.
Thanks for reading!
Please visit Disney Bird to link up with the rest of the blog hop....