Welcome readers! Today's post is part of the Something About Me Saturday Blog Hop!
Something you may not know about me is that I'm a member of the
Tea Party.
No, I'm not talking politics here... I'm talking hot-beverage-of-choice!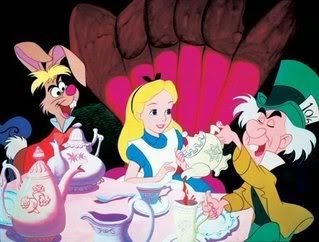 Here in the United States we have a two-party system: the Coffee Drinkers and the Tea Drinkers! We tea drinkers are most definitely in the minority.
Statistics show that the average coffee consumption in the United States is 3.1 cups of coffee per day.

On the other hand, Americans drink an average of just under half a cup of tea per day and a

pproximately 85% of the tea that is consumed is iced!
Some say that Americans drink more coffee ever since the Boston Tea Party in the 1700s when a group of early colonists protesting the tea tax threw a boatload of it into the Boston Harbor.
One of the main reasons that tea was then shunned by America is the fact that the early Americans fought to gain their independence from Britain, so it made more sense to prefer coffee to the traditional tea drink that came from their home country.
~ The Complete Idiot's Guide to Coffee and Tea
My Irish grandmother had a different theory. "Its all because of the
water," she would often say. "The water in Ireland makes better
tea, but the water here makes better coffee!" (She drank copious
amounts of both, by the way.) My parents were, and still are, big
coffee-drinkers… there was always a pot percolating on the stove
when I was growing up. I do love the smell of coffee, there's just
something about it that makes me a little queasy when I drink it.
Too many cups guzzled during late-night study sessions in college,
perhaps? In any case, I find myself drinking tea almost exclusively
these days.
That may not be such a bad thing, though. Tea is loaded with
healthy antioxidants that help prevent certain chronic diseases and
certain types of cancer. But I must say that I'm always especially
grateful that I'm a member of the "Tea Party" when I visit Walt
Disney World. My coffee-drinking friends tell me the cuppa Joe
served by The Mouse is somewhat less than, er, magical!
What's in your cup?
Thank you for joining me today! Be sure to check out DisneyBird's Blog for links to the rest of the Blog Hop.