Welcome to those of you joining me from THE DISNEY FAITHFUL and to those of you who have just hopped aboard.
I am the Final stop on our Magical Blogorail loop.
Today I'm sharing a special Christmas-y memory: a surprise Magical Moment that was granted to my daughter at Ye Olde Christmas Shoppe during our visit to Walt Disney World in November, 2007.
That was the year that my son Billy, then nine, became obsessed with the Hall of Presidents attraction in the Magic Kingdom. Weird, yes, but hey -- that's life on the Autism Spectrum! Although we had visited the attraction previously, this time there was something about that show that captivated him him. Perhaps it was the mesmerizing movements of the audioanimatronics, or the fascination of viewing a film on a 180-degree screen, or the pleasing rhythm of the Presidential roll call. I'll probably never know, exactly.
"I want the Hall of Presidents again, please," he asked politely as we exited the theater.
"Perhaps later," I said as we steered the children toward the Haunted Mansion. "But that's a very good job using your words." Children with language disorders are often encouraged to use their words.
Hmm. I may have spoken to soon.
As if echoing the cadence of the roll call, Billy began to steadily repeat his request. "I want the Hall of Presidents, please!" All through the Haunted Mansion queue: "I want the Hall of Presidents, please!" In the Stretching Room: "I want the Hall of Presidents, please!" By the time we boarded our Doom Buggies he was completely rigid and obsessive; nothing we said or did could dissuade him from the chanting. Needless to say, by the time the ride was over our nerves were on edge and his sister was ready to make him the 1000th happy haunt!
In a valiant effort to save the day, my husband volunteered to sit through another HOP show with Billy while we girls did something else. That gave us about half an hour to do whatever we wanted, but I didn't want to stray too far from Liberty Square. We had an early dinner ADR at Liberty Tree Tavern.
So, what to do? My eyes fell upon the festive windows of Ye Olde Christmas Shoppe and immediately I knew the answer. Without the boys around, we girls could finally do some SHOPPING!
And what could be better than Christmas shopping in Walt Disney World?
"How about Splash Mountain?" my daughter offered.
I reminded her about our dinner reservation and she began to pout. "How come everyone gets to do what they want to except ME," she muttered. Nevertheless, she followed me inside, perhaps hoping that she could do some pin-trading with a Cast Member while I looked for a dated ornament. A pleasant Cast Member named Joyce noticed Tricia moping near the register and surprised her by saying, "Our tree needs decorating, would you like to do it?"
There, standing next to one of the registers, was a slender Christmas tree. Unlike the many others in the shop, the branches of this one were bare. I had read about being able to ask the CMs at the Christmas Shoppe if you could decorate one of the trees, but since it was so late in the day, I figured that the opportunity had long been lost.
The CM reached behind the counter and pulled out a basket full of ornaments and handed them to Tricia. "Do you know how to decorate a tree?" she asked, innocently. I snorted and Tricia laughed. "Yeah, my mom's kind of a Christmas nut so, trust me, I know how to decorate!"
She took the basket and began to hang the ornaments on the tree, taking great care to place them just so. She didn't even seem to mind when I hovered around her, snapping pictures!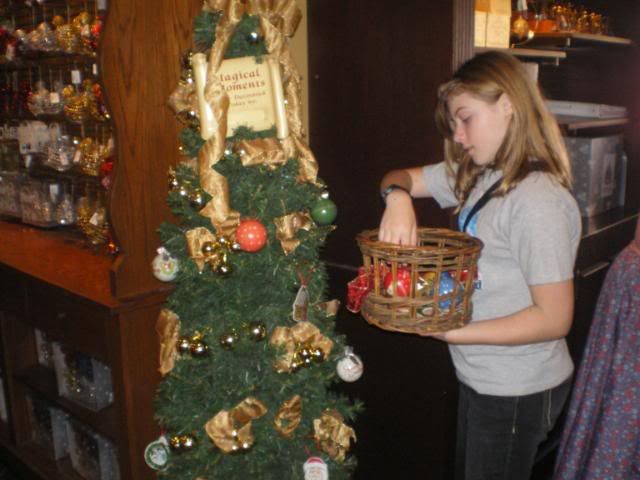 After the tree was completed, the CM placed a note on it proclaiming that "Patricia" had decorated it that day. (My daughter must've felt the occasion warranted the use of her full name!) Then the CM made out a Magical Moments certificate, gave it to Tricia, and assured her that "her tree" would stay that way until the following day. She got a big kick out of that!
It was just the bit of pixie dust she needed after such a trying experience with her brother and a lovely little mother-daughter memory for us to share.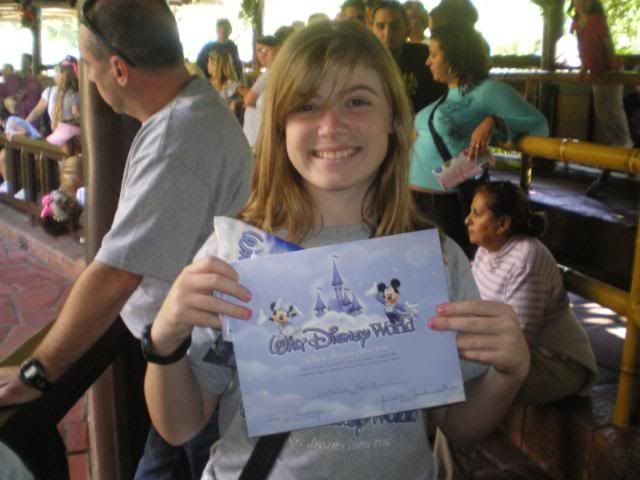 Thank you for joining us this month. We will be back August 23rd with an all-new theme! Keep checking in with our blogs between loops to keep up-to-date with our Disney info, photos and stories. If you are looking for more Disney magic, you can find all our blogorail members' blogs, as well as links to our previous loops, at The Magical Blogorail.
Here is the map of our Magical Blogorail loop, should you happen to have to make a stop along the way and want to reboard: