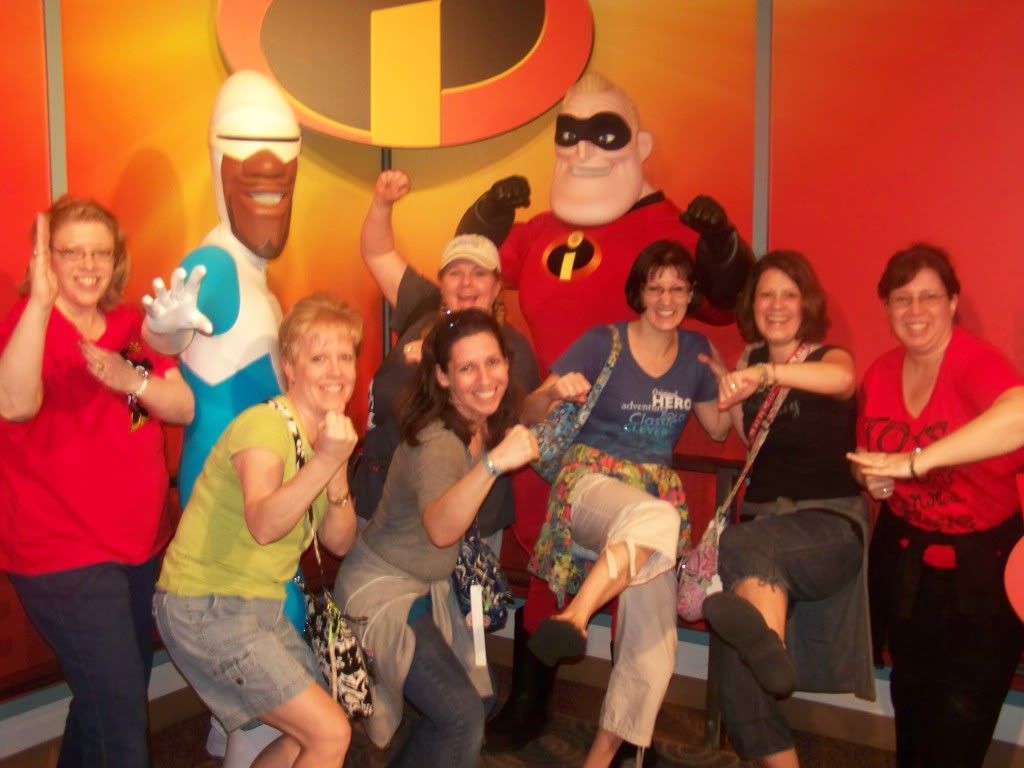 The Spectrum Moms at Disney's Hollywood Studios
with characters from Disney/Pixar's The Incredibles
To the casual observer we blend in among the general population, our true identities unrecognized. We do not wear masks or capes. We look like typical moms and as a group, we're fairly average. Some of us are stay-at-home moms, others are out in the workforce: a nurse... a bookkeeper... a librarian ....an office worker. Unless you saw us with our children you would never guess that we are Super Moms who, by necessity, continue to hone and improve our incredible Super powers with each passing day.
We are mothers of children on the Autistic Spectrum.
We may be smiling in the photo, above, but make no mistake: we are tough. We kick Autism's butt every day.


Like Helen, the matriarch of the Parr Family, we were happy to live quiet, unassuming lives. We kept our powers under cover. Then a Syndrome named Autism came along and forced us into action. Our children needed to be saved, so we reached deep down and found the super powers hidden inside.


Like ELASTIGIRL: We found the amazing flexibility needed to parent a child with frequent mood swings, odd/obsessive behaviors, and extreme sensitivity to sensory stimulation. We use our power of flexibility to help us balance the needs of our typical children with those of our children on the Spectrum. (Especially useful when preventing them from killing each other!)
Like MR. INCREDIBLE: We discovered the strength... physical, spiritual, and emotional... needed to battle society's villains: Ignorance, Intolerance, and Indifference, as well as the inner demons of Depression, Hopelessness, Isolation, and Fear. We recognize that we can't do this alone, and we seek out and accept the support of family and friends so we remain strong.


Like DASH: We can move fast! When we see a situation escalating into a meltdown, we take charge. We can safely exit a crowded mall or grocery store in thirty seconds flat!


Like VIOLET: We developed the power of invisibility; our personal needs and desires disappear and those of our children come first. We choose to see our children's abilities, not their disabilities, and to view them not as autistic children, but as children who just happen to have autism.We form a protective force field around our children, giving them security in the knowledge of our unconditional love.


Finally, like JACK-JACK: We have the power to turn sweetness into steel. We will not bend when it comes to getting our children the services they need. Oh, and if someone ever tries to hurt our kids... well... have you ever seen what a flaming devil-baby can do?



Kathy, aka Super Spectrum Mom #1